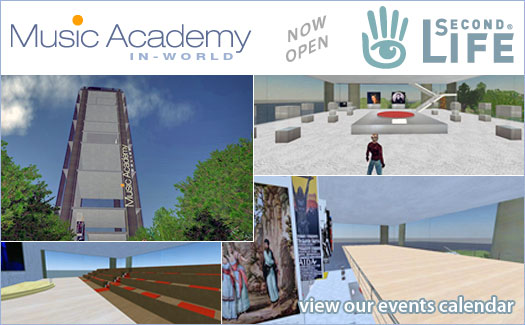 One of my favorite places in Second Life is the Music Academy Online, if you are a music lover and you haven't visted Benton Wunderlich yet, you need to get there. I met Benton through Joskie, a fellow Educator Coop resident. At my first visit to the music academy Benton was hosting one of his weekly Wednesday night dance parties (9pm) where he was pulling songs from his vast music collection. Great thing with Benton is that he not only plays great songs but he can't help but tell you about each one as he plays them. Keep in mind, he has taught music appreciation and has a Ph.D. in composition so he "knows" his collection.Monday night night I attended a presentation by Benton called ZAPPA AND IVES. The content of the presentaton was fantastic but the way Benton used Second Life to create a musical experience within SL is what really blew me away.
Benton began the presentation by giving each person a notecard with a short Biographical sketch of Ives and Zappa along with a list of tracks and albums he would be playing. Next, Benton described the similarities of each composer and gave a little bit of historical background. From there, Benton started to play his selected tracks. At this point, Second Life surpassed any other medium including face-to-face, television, radio, or any other combination of multimedia. Here is how and why
1.Benton streamed music through Second Life and a very high bit rate that enabled each user to control the volume and level of the music they were listening to. Initially I was listening to the music through my speakers but when I wanted to get a "closer look" I plugged in my headset. This individual control of the audio level surpasses a listening session in a face-to-face environment; an audience member cannot simply turn up the volume in a public setting.
2. Benton used text chat to prompt the listeners when important transitions were about to occur. Text chat is the key. In another environment such as face-to-face or radio, Benton would have had to speak above the music to prompt listeners. Doing this would have been a distraction from listening to the music. Text chat on the other hand didn't get in the way of the music and for me at least, provided a richer experience.
3. Having the event in Second Life created a shared experience for the audience. I interacted with Benton and other audience members. I knew they were "there". In fact, the audience requested that Benton replay one of the songs we listened to. SL enabled the shared experience, allowed interaction between the audience, and created feedback loops for the presenter.
4. Visual aids, while Benton was playing a work by Ives he displayed a picture of a conductors score with hand written notes on it. Seeing the Score helped to show the complexity of the music and illustrated the variations that can be taken with a piece. Plus, it was just plain cool to see a musical score to the piece of music you are listening to. In addition to the score, pictures of both Ives and Zappa were displayed.
The combination of the music, the narrative, the shared experience, and the visual aids created an authentic learning experience in Second Life that in many ways surpasses an experience in Real Life.
Check out the Music Academy Online in Second Life when you get a chance, a calendar of events is available hereTell Benton El Guappo Sent you….