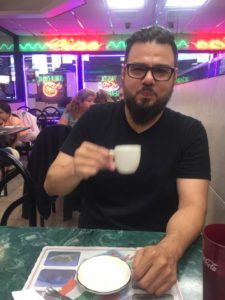 Joe Sanchez is a researcher and educator in the Graduate School of Library and Information Studies at Queens College (CUNY). He studies the information practices of Mexican-American high school students  through the blending of Identity, Community, Narrative, and Spaces. He is a Mellon Fellow and a Google/ALA fellow in the Libraries Ready to Code Program and a founder of the iSchool Inclusion Institute (i3).
After working as an Instructional Designer for ten years, Dr. Joe Sanchez pursued a PhD from the University of Texas at Austin. His early work asks the question,  What can virtual worlds teach us about learning?
While faculty at  Rutgers University, he created an Undergraduate specialization in Game Production and Innovation and helped to create an award winning Markerspace. In 2012 he was named as International Teaching Fellow at the University of Applied Arts and Sciences in Darmstadt, Germany, where he worked closely with graduate researchers to design collaborative virtual work environments.  
Dr. Sanchez has been featured in The Chronicle of Higher Education, ABC News, USA Today, and Texas Monthly. His research bridges the areas of social and community informatics, new media, and learning while focusing on information practices in a social setting.